Tight Ends Coach Wade Harman
4 min read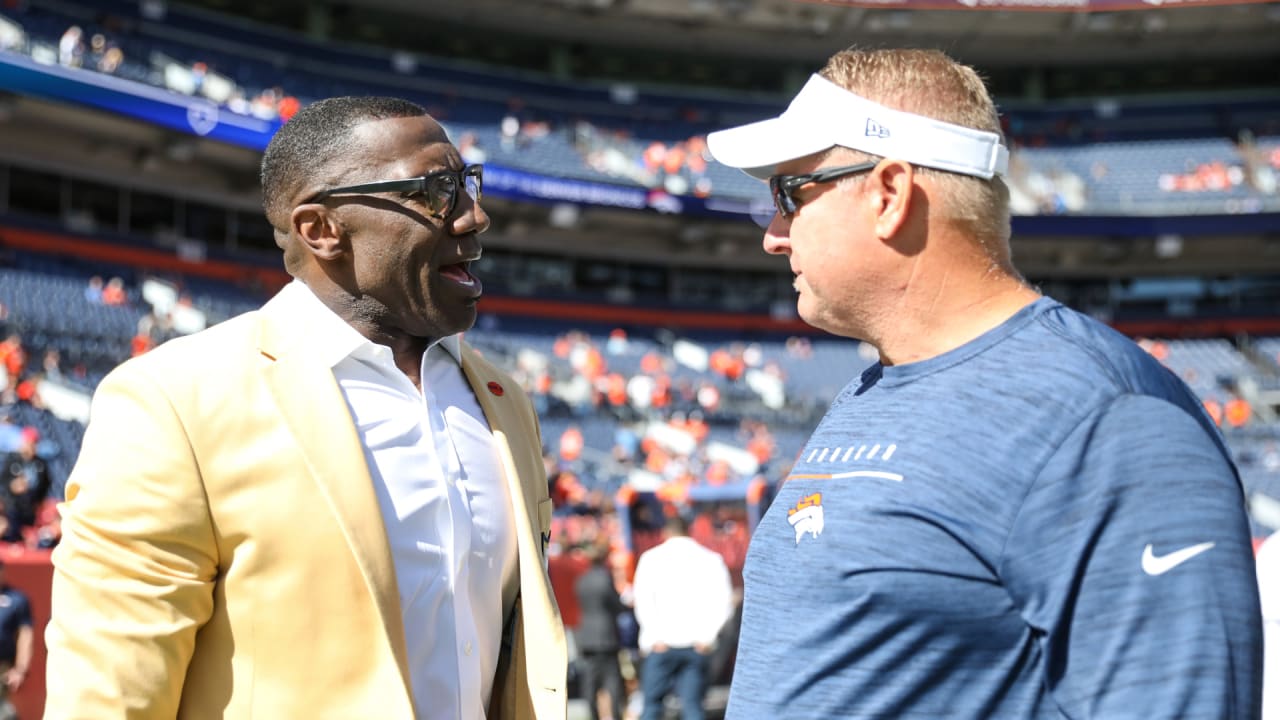 Jake Butt went down with another knee injury this year, but his devotion and his positivity seems to never waver. How much do you admire the way he approaches life and the game?
"Jake's one of my all-time favorites. I'm in his corner so much. I hope it all works out; I'd love to get him back going. He just brings a different element, that mental part, to it. The competitiveness, the positive outlook, the effort. It's infectious for our group and we miss a little of that when he's not in there. I hope that we can get him back and hope that everything works out well, because he is a dynamic personality, tough, hard-nosed player that brigns a lot to our group."
You've coached some very talented rookie tight ends in your career. What do you feel like is the biggest challenge for a rookie who comes into this league?
"I think it's sometimes the mental fatigue. It's something every day, learning something every day. And then we get into learning a big playbook during the offseason. Then during each week it's a new game plan. It's a lot of the same plays, but now we're going to change the motion, we're going to change the formation. It's just constant and you have to just stay on it and stay on it. So the mental grind, I think, especially for a young guy, it's the hardest thing they have to deal with. And their season usually gets done and we're still going. They played 11, 12 games in college. We've got four preseason, 16 regular season — this year five [preseason] — and then hopefully playoffs. That's a long haul, and just getting those guys through that first year, they all come back that second year and just say, 'Ah, it's so much easier the second time around.' That's the hardest part of that."
In your second year as a tight ends coach in Baltimore, you coached former Broncos great Shannon Sharpe. With his personality, what was it like being a young coach and working with a veteran like him?
"I was a slight bit nervous to start with. I didn't know what to expect. All I saw was the media or TV personality. But once he got in the door, he was unbelievable. Hard-working guy, studied his craft, watched tape on his own. He'd come in early in the mornings and he'd talk about stuff. He'd go, 'Yeah, I was watching tape last night. I saw this, I saw this.' He was on top of his stuff. He was a really good pro and he was a good guy to have for all the young guys that we had. I remember Todd Heap came in as a rookie when we had Shannon, and he was a great mentor for him."
What kind of memories do you have with Shannon of winning a Super Bowl together?
"Shannon was unbelievable. Really good memories. One of the first memories I had, I think we were playing Jacksonville at home. May have been our second game, and he left during warmup. He just left and said, 'Hey, I've got to go in. I've got something wrong.' I looked at him and he goes, 'Don't worry about it, I'll be all right!' I didn't see him all of warmup, and he then he comes out in the game and played his tail off. I guess he went in, had his knee drained or something. He ended up catching the winning touchdown at the end. I think we had a seam route vs. Cover 2. He bent it in there vs. Jacksonville. We were behind and needed it. He came through and made a play. I was like, 'Man, what a committed warrior. What a guy that lays it out there for you. 'He told me, 'I'll be all right. I'll be fine.' I didn't know what to think. So that was a real cool story to start with. And then the Super Bowl run with those guys was just unbelievable. A leader and really helped us on the field, off the field, in meeting rooms, practice. He was the one telling us our defense was so good that year. He was telling us, 'Hey, if we get the lead, we don't have to throw the ball. Just give it to Jamal [Lewis] and we'll block our tails off.' He did a great job with all that stuff."
Out of everything, what's your favorite part of your job?
"I think just working with different people every year. It's a people business and dealing with different personalities, different people, getting to meet a lot of different people. That part makes it fun for me. And I like the challenge. Every week's a new challenge. It's something different: different defense, different ways to attack, different problems you have to solve. It's always changing, the people are always changing, the schemes change, how you attack people changes. So I think just being something different all the time is something I really enjoy."
https://www.denverbroncos.com/news/under-the-headset-tight-ends-coach-wade-harman


Ebay Products