Colquitt Fills Locker with Cast of Characters
3 min read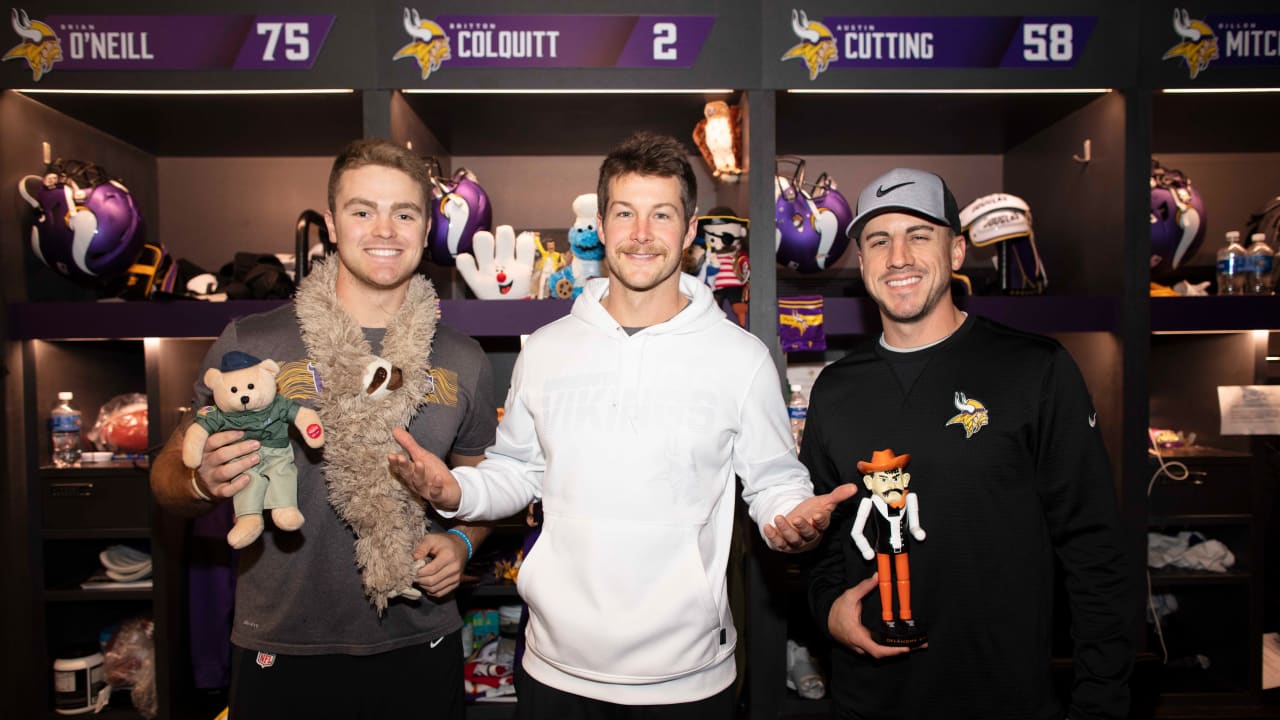 In the two months since Britton has joined the team, he's developed connections across the locker room and built a rapport with Bailey and Cutting that has helped the trio operate smoothly together on the field.
Brewer wasn't surprised to hear in Arizona how well Britton has meshed with the other Vikings specialists.
"Especially with what we do, he keeps things very light. Like with the [characters], everything's kind of funny," Brewer said. "You need that in our position, a way to not be so serious all the time, just joking around a little bit. That definitely helps."
Vikings Special Teams Coordinator Marwan Maalouf said that Britton's demeanor has been a positive addition to the room, complementing those of Bailey and Cutting.
"If anything, Britton's personality brings out some liveliness in everybody. I think it's a good thing," Maalouf said. "The guys have a good time. He adds a little bit of a relaxed nature, [and] I think that's a plus. It kind of keeps everybody even-keeled.
"We have fun. We're with these guys more than we are with our own families," Maalouf added. "When you can laugh and enjoy being around each other, that's a huge positive."
Britton completed just one practice with the Vikings before joking with Twin Cities media members in September about the difference in temperament between him and fellow veteran Bailey.
"Dan is laid-back, he's quiet. I'm not quiet," Britton said. "We're like Yin and Yang, but it works pretty good. I talk a lot. The chemistry is good."
Bailey concurred with the contrast.
"I don't know if you were trying to get three personalities to sync up, if you would pick us three, but I don't know – it just works," he said.
Bailey has twice earned NFC Special Teams Player of the Week (both in October) in two months of working with Britton, despite the two of them never crossing paths previously in their careers. He said that Britton's experience in the league "has been huge" in catching up and finding a rhythm with each other quickly.
"He's made it super easy," Bailey said. "He's kind of a happy-go-lucky, goofy guy, but at the same time, you know he's going to do his job, and he's going to have the confidence to do what he needs to do.
Added Bailey: "It just makes it a super relaxed but also focused environment. It's been good."
Britton keeps life interesting, to be sure.
"It's a common thing for us to have, like, three or four minutes left before a walk-through or a lift or something, and it's like, 'Where's Britton? I thought he was [right here].' Like, we'd be walking along and he just goes in a room somewhere – you never know [what he's up to]," Bailey laughed. "He's scatterbrained, and it's hard to keep track of him. But he's always there. He's an interesting dude, for sure."
https://www.vikings.com/news/longform/vikings-britton-colquitt-fills-locker-with-cast-of-characters


Ebay Products