Chicago Bears hope to travel back to the future…
4 min read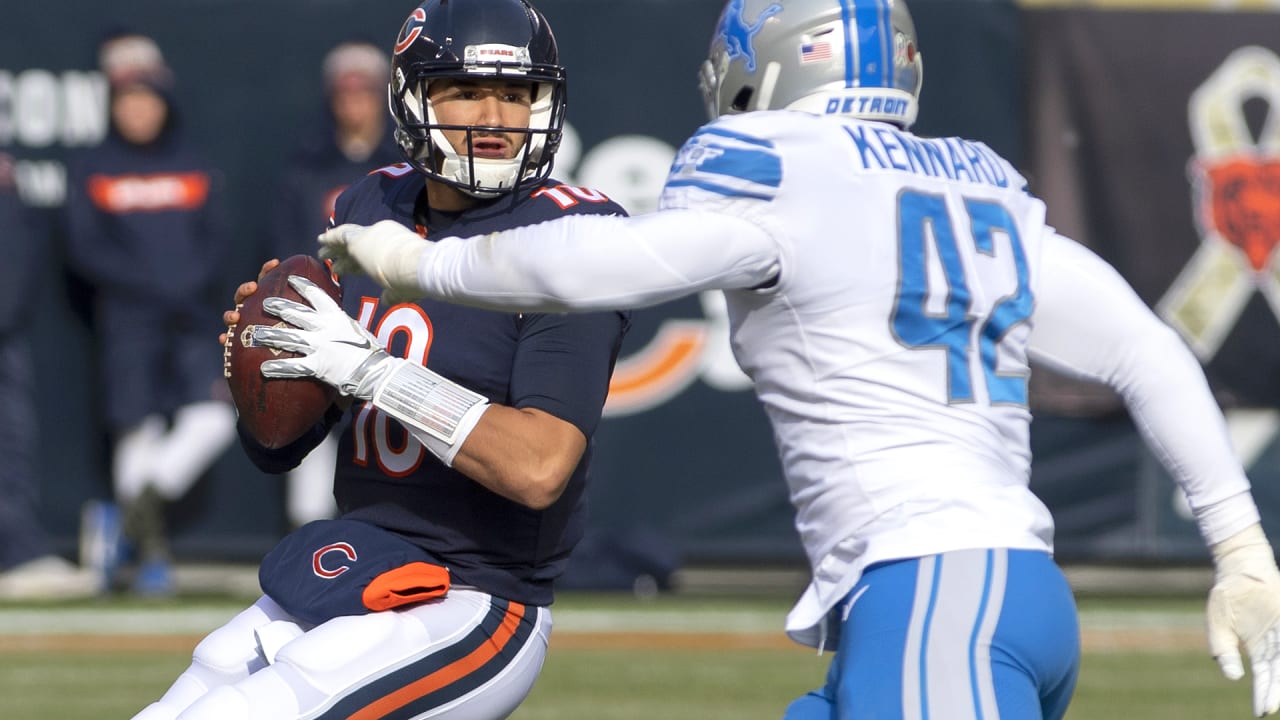 Almost exactly one year ago, quarterback Mitchell Trubisky had one of the best games of his career, throwing for 355 yards and three touchdowns en route to a 34-22 home win. Two weeks later, with backup Chase Daniel starting, the Bears won in Detroit, 23-16.
"It's hard to say exactly why we like what we like," said Nagy, "but you go back and you watch that game on tape, and you see, man, it's pretty, we did a lot of good things in both of those games. But there's other games as well last year that we did things on offense too, and that's been like the biggest thing that you fight, trying to figure out that why."
Nagy has acknowledged that the offense hasn't been able to find its rhythm this season. While much of the focus might land on Trubisky, Nagy feels that the entire team could stand to look back on past success to analyze what has held the team back from replication. Neither Allen Robinson II or Anthony Miller has reached the level of production from the first Lions game in 2018, when they accounted for 133 and 122 receiving yards, respectively.
"We've done it with the whole offense at times," said Nagy. "Depending on what game it is, it's nice when you're able to put on a game from the previous year."
The shared experience of last season has given Nagy a leg up in one area: the players can see themselves as a reference.
"Last year we put on Chiefs stuff because that's what we had," said Nagy. "Now this year we're able to put on Bears stuff and that part's good for these guys because they get to see things that they've done in other games. That has helped them."
Nagy acknowledges that part of the offensive woes has been a failure to spread the ball around as efficiently as happened last season. Robinson has almost precisely as many catches and yards as Miller, Trey Burton and Taylor Gabriel, combined.
"You saw that last year," said Nagy. "There was a lot of distribution. That hasn't happened this year. And that's the part where we want to make sure–for one–if they're going to take A-Rob away then you know, two other or three other guys are going to show up. That didn't happen last week because we just didn't have enough plays."
Part of the problem is a decrease in production at tight end, where Burton and Adam Shaheen have combined for 158 yards on 23 catches. If that pace holds up, the two tight ends will finish well short of last year's effort from Burton alone, when he caught 54 passes for 569 yards.
"Tight-end production-wise," said Nagy, "those guys want to be able to have more production, but when you have those guys on the field, the other guys you have, at times, you're taking other good players off the field. And so it's just a juggling act. When you don't have a lot of plays, and you're not getting first downs, you can't get into all that."
Nagy acknowledges that the health problems that have nagged Burton since the summer have continued to be an issue.
"We went into training camp," said Nagy, "and he just wasn't right at training camp. We felt that we wanted to pull back, and now we're gradually trying to get him back. He's been playing better and better each week. Do I think he's 100 percent yet? No, I don't."
Nagy addressed the change from being a first-year coach with relatively low expectations to his second year, with higher goals and inferior results.
"No one knows exactly what we're getting into," said Nagy of last season, "and then we made a little run. We ended up winning the division. And we put ourselves in a great opportunity to where now the expectations are meteoric."
That is no excuse, in Nagy's opinion for the 3-5 start. He understands the scrutiny that comes with a team that came into the year with playoff expectations and better.
"We're not asking for anything different," said Nagy. "We want that. If you don't crave that pressure and you don't crave that, then you shouldn't be on this team. Knowing that coming into this year, we always talked about, let's not get complacent. We can't walk on that field and just be out there and be 12-4 again. Things are going to happen. Adversity is going to strike. It struck."
Nagy sees the next few weeks as a proving ground. With the pressure on, Nagy is eager to see who steps up in Sunday's game.
"So now the now is how are we going to react?" said Nagy. "Because at the end of this thing, it's going to reveal a lot about a lot of people. I think that's what I am going to take away from this. You can't worry about Week 15 or 16 right now. You have to worry about the Detroit Lions."
https://www.chicagobears.com/news/bears-hope-to-travel-back-to-the-future-sunday


Ebay Products